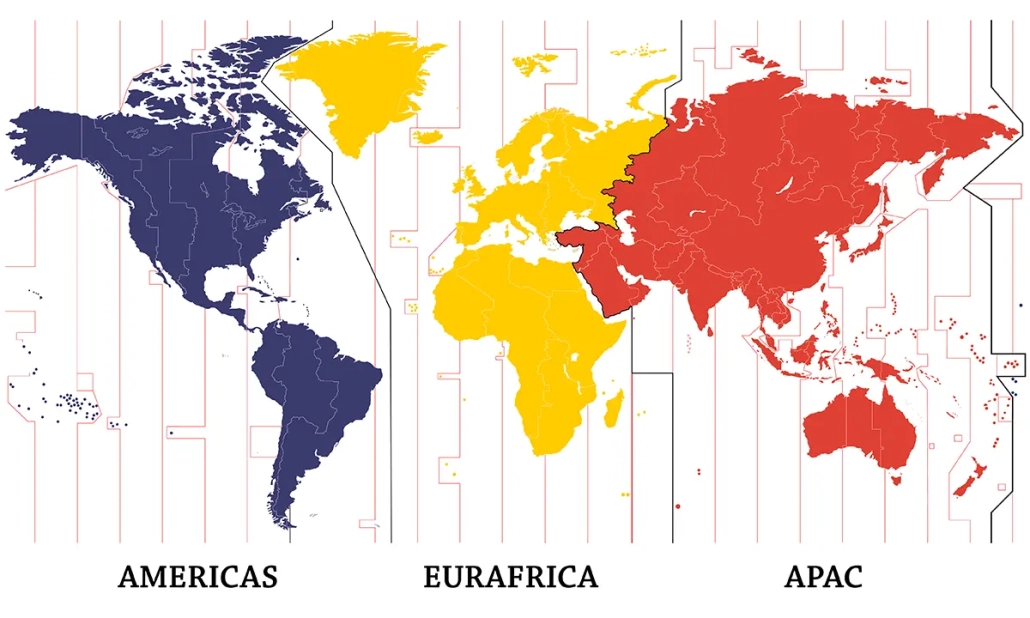 The IRAA defines "Asia" as the greater Asia Pacific coverage region, including the Middle East. This is the same as the IAG media coverage region. We define this to be approximately one-third of the globe, covering the longitudes from around 30 degrees east to the International Date Line.
The western edge of the region (from north to south) is the Ural Federal District of Russia, the Middle East, and then the 60 degree east longitude in the Indian Ocean, meaning that we cover the Maldives but not Mauritius.
We define the eastern edge of the greater Asia Pacific coverage region as the International Date Line, meaning "Asia" includes Vladivostok, Japan, New Zealand and the islands of the western Pacific.
There are only three countries which are partially in the region: Russia, the United States and France. For Russia, the region includes the easternmost three federal districts: Ural, Siberia and the Far East districts. This includes Vladivostok in the Primorye Gaming Zone and the Altai Gaming Zone nestled between Kazakhstan and Mongolia. For the US, the region covers territories in the Asia Pacific west of the International Date Line. The only such territories which are populated are the Commonwealth of the Northern Mariana Islands (CNMI), Guam and Wake Island. Throughout these three territories, there is only one casino, in the CNMI. For France, the region covers the two French territories in the western Pacific: New Caledonia (which has two casinos — both in Noumea) and Wallis and Futana (which doesn't).
The region is dominated, of course, by Macau. This is followed by the Philippines, Singapore and Australia. Other important markets are Cambodia, Japan, Korea, Malaysia, New Zealand and Vietnam. Both Laos and Russia have potential to grow as integrated resort markets.
The full list of countries in the region is below.
Southeast Asia (14)

Brunei
Cambodia
East Timor
Hong Kong
Indonesia
Laos
Macau
Malaysia
Myanmar
Palau
Philippines
Singapore
Thailand
Vietnam

Northeast Asia (6)

China (with Hong Kong, Macau and Taiwan listed elsewhere)
Japan
Mongolia
North Korea
South Korea
Taiwan

South Asia (7)

Bangladesh
Bhutan
India
Maldives
Nepal
Pakistan
Sri Lanka

Central Asia (6)

Afghanistan
Kazakhstan
Kyrgyzstan
Tajikistan
Turkmenistan
Uzbekistan

Middle East (14)

Bahrain
Iran
Iraq
Israel
Jordan
Kuwait
Lebanon
Oman
Qatar
Saudi Arabia
Syria
Turkey
United Arab Emirates
Yemen

South Caucasus (3)

Armenia
Azerbaijan
Georgia

The Pacific (15)

Australia
Fiji
France (New Caledonia, Wallis and Futana only)
Kirabati
Marshall Islands
Micronesia
Nauru
New Zealand
Papua New Guinea
Samoa
Solomon Islands
Tonga
Tuvalu
United States of America (CNMI, Guam and Wake Island only)
Vanuatu

Russia (1)
TOTAL 66